K.C. Bacon.

Quality BSW,BSF,BA and AF (SAE) tools for classic and veteran cars,motorcycles,commercials,

and all older machinery,specially that of English manufacture.

All major credit cards accepted or paypal .

Mobile 07974435627 or 01472353993
All the Imperial based tools I have for sale are now Listed Here on this page.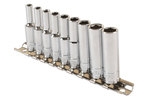 Baconsdozen Imperial Tools facebook page is here.
Some professional quality BA (British association) deep sockets now in stock.. Sets of imperial AF (SAE) impact sockets

Larger Imperial twelve sided (bi hex) hub nut sockets now in and some in six sided (non impact versions).

Both available as AF and Whitworth much better and safer than the hammer and chisel method of getting large nuts.It is also impossible to torque accurately using hammer and chisel,stilsons etc. I now have 1/2 and 3/4 drive deep and standard imperial hub nut sockets in twelve sided (bi-hex) versions to suit many classic cars.
I now have also more of the larger deep British Standard Whitworth deep sockets in 1/2 and 3/4 drive,at present twelve sided but six sided available in some sizes too. Also for Harley Davidsons etc deep 1 + 1/8 inch AF in half drive.I still stock the cheap DIY whitworth spanners,although cheap they fit well and are handy for carrying as an emergency tool kit.I have sold hundreds of these over the years with no complaints.
I have still got the King Dick and Elora combination wrenches which are much better quality although a higher price. Some price increases are now inevitable,prices on site will change as new stock is sold.

Sets of English made open ended spanners in BA sizes 0 to 10BA. Proper forged ones not pressed out of flat steel. Will be around the twenty quid mark

More six sided Whitworth/BSF arriving in 3/8 drive. We should also have some six sided in 1/2 drive arriving in a few weeks.High quality and unique.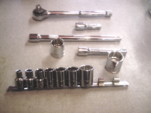 In again deep BA sockets in 1/4 drive. Some sets of miniature AF spanners also arrived unique to us,made in England..I've increased the price of all tools on ebay (even the clearance stuff) to cover the aggro their policies are causing and the higher costs involved in selling on the site.

Most metric sockets and spanners have now been disposed off,there is little demand for these from classic car owners. We are now concentrating totally on BSW and AF. Most makers have now dropped large sections of their AF ranges.Draper for instance list virtually nothing worthwhile in AF .Some excellent quality swan necked AF ring spanners arrived. Some in wallets,some carded. Genuine English made proper chrome vanadium steel. not Chinese junk.Various sizes and sets..

Arrived,sets of deep six sided AF sockets in 1/4 drive and 3/8 drive .Decent quality proper chrome vanadium steel Includes fractional /32 sizes . We also have a few Japanese made, deep BA sockets in 1/4 drive. Exclusive to me. Please ask for details.

Now in. Genuine Gunsons compression tester with adaptors.Diagnose faulty rings or valves.Single handed use,suitable for petrol engine fault finding.

I have a new delivery of one and a half inch AF DEEP hub nut sockets. (six sided) These fit the hub nuts and steering swivels on some early british cars,we also have some other hub nut sockets and deep AF sockets on a clearance,under half price whilst stocks last.

Some sockets to fit hub nuts strong,(Draper Expert) 1 and 7/8 inch AF suit early BMC rear axles. These are 3/4 drive and £10 plus post to clear. NOW ALL GONE.

Fresh in,deep sockets in twelve point (as well as the six sided versions). Japanese made,high quality The twelve sided are slightly slimmer but many mechanics still prefer the six sided sockets which they say gives a better grip on worn fixings.
Fresh stock of the miniature combination spanners in AF ,some insert hex bit AF sockets and impact AF sockets arriving.Just in some King Dick made in England,combination and ring spanner sets in AF and BSW . Nice and old fashioned on a card. Limited supply only

Now in a range of British Standard Whitworth (BSW) Impact sockets. In 1/2 and 3/4 drive,also available as deep sockets. Good quality,British made not the crap Chinese things.

Ordered some ring spanner and combination sets in AF. English made super quality. Also in the pipeline are some sets of whitworth and AF sockets with built in universal joints. 3/8 and 1/2 drive,twelve sided and excellent quality again.

Now in cranked (sometimes called swan neck) chrome vanadium steel double ended ring spanners in whitworth sizes. Genuinely English made,high quality the ring end is bi hex.

Now in,fresh stocks of the King Dick English made whitworth combination spanners.Excellent professional quality.
Large qantity of individual twelve point sockets in AF and BSW sizes being cleared on the Whitworth and Imperial pages.

1/2 drive AF socket sets. Good DIY quality .These are six sided .Price reduced to clear..

Price reduced on sets of normal length six sided AF sockets in 1/4 and 3/8 drive. DIY range and a professional quality range.

New in UNF,UNC thread gauge (we also have two ranges of whitworth and BSF gauges) , German made,fresh stocks arriving,save damaging threads on your classic.
K.C. Bacon,years of selling imperial Tools for veteran,vintage and classic cars.
For home page click here.. For Metric to imperial socket and spanner size conversion charts click here..