Baconsdozen Imperial tools.
Strong waterproof,chemical and oil resistant gloves.Gaunlet type or long gloves covering the whole arm .Genuine Showa,don't get palmed off with cheap,inferior copies.
Showa waterproof gloves for commercial fishermen,fish farming,scuba divers,window cleaners,pressure washing or car cleaning and others needing strong durable waterproof hand protection.Gauntlet style or shoulder length covering the whole arm for cleaning out garden ponds sewers or drains,working in fish tanks,aquariums or boat weed hatches,milking cows etc. Made from a PVC compound on a woven base these gloves will keep your hands dry and warm,ideal for working in oily,foul or polluted water.Textured palm and fingers for better grip.No minimum order,Prices quoted are for single pairs,for multiple orders please contact us as post per glove will be less.We can take credit card orders over the phone.

For fishing and food industries etc,working with most commonly used chemicals or in water etc, Showa 660..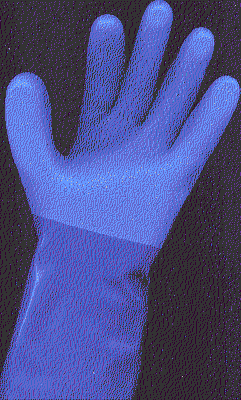 Showa 660 gloves. PVC on knitted cotton liner, a strong waterproof glove.Showa PVC gloves are very popular with commercial fishermen and the fish trade as they resist fish oils and most common chemicals,also suitable for food processing and other industries.These gloves are popular with underwater divers,and are in fact the gloves recommended by the makers of the Rolock Ring System for sub aqua use.
Showa 660 £5.50p pair inc post to UK
Similar usage but more suitable for cold water or ice .Showa 481.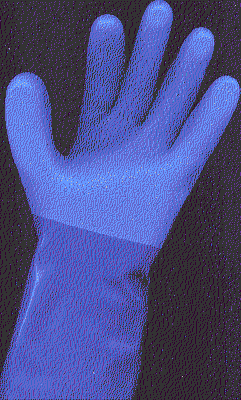 We also stock the Showa 481 waterproof glove, as you can see they look identical to the 660 but have a warmer fleece (flock) type lining.Ideal for working in very cold water or with frozen fish,meat or poultry etc.Good oil resistance,totally waterproof .Also used for scuba diving in cold weather.
Showa 481....£6..50 pair inc post UK
Shoulder length gloves for garden pond clearing,fish tanks,drains,sewers,aquariums etc,
The part covering the hand is very similar to the Showa 660,the part covering fore and upper arm is thinner and supple yet self supporting..These shoulder length, waterproof gloves are ideal for cleaning out a garden pond,ditches,sewers,drains or aquarium.They are ideal for fish keepers (especially those allergic to coral) or for working in deep cold,foul or contaminated water,fish farming,weed hatch clearing on narrow boats etc.

Totally waterproof and chemical resistant £16.00p pair inc post to UK ,available in three sizes. for multiple orders contact us.
Glove sizes...as a general guide,with fingers straight measure across the palm of your hand. Three inches or under would indicate a size 7 will be O.K. Up to three and a half size 8,up to four size 9 and over four inches size 10.The same marked sizes often vary in actual size with different glove manufacturers, if in doubt please contact us.
For multiple buys or orders outside E.U please ring the number below with a credit card to hand.We only sell waterproof clothing and gloves suitable for commercial use,not cheap lightweight copies that tear or hole in a working enviroment.
Lightly dusting gloves with french chalk or talcum powder stops them sticking together if stored for some time.To increase the life of PVC or rubber gloves etc ,store in a cool dark place.
E-mail address is sales 'at' baconsdozen.co.uk



Baconsdozen Imperial tools
Tools for classic vehicles
13 Waveney Road
Lowestoft
Suffolk NR321BT
Telephone (44) 01502 584575 (if no reply alternative numbers are on home page).
Ordering details,terms and conditions go here.