About Elora.
Professional quality tools from Germany sold by Baconsdozen Imperial tools.
I sell a range of imperial based sockets and spanners by Elora in BA,AF and BSF/British Standard Whitworth sizes. All Elora tools are fully DIN certified and suitable for commercial or professional use.
Elora tools was established in 1924 by Erich Rauch in Remscheid which is still their headquarters. Elora is still family owned and from its early beginnings making mainly plumbers tools and spanners now has a very large range of high quality handtools.Eloras full range includes some tools that are no longer imported into this country,however we are able to source these tools in other,high quality makes.
The illustration below is of the popular Elora 205 series six piece combination spanner set in BSW sizes 3/16 to 1/2 inch whitworth.This set is typical of the Elora spanners sets,chrome vanadium steel with a matt chromed finish to the shank and polished heads. The ring end is set at an angle of 15 degrees to the shaft the shafts are slim and the spanners are accurately made,well finished and perfectly at home in a professional workshop enviroment .We sell individual Elora wrenches and sockets as well as larger sets. Elora also make combination and open ended BA spanners in forged steel and sets of magneto spanners on a ring with screwdriver and a points file.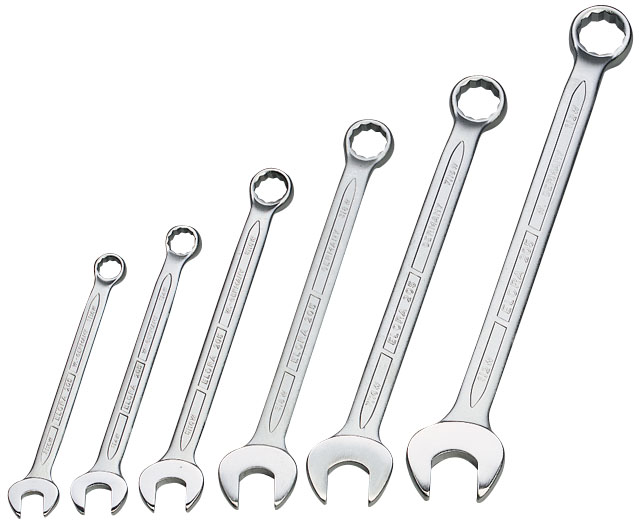 Quality bi hex BSW Whitworth sockets (1/2 drive) by Elora.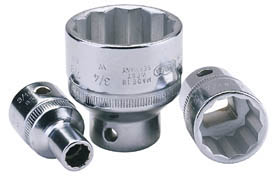 Click here to return to whitworth and BA tools or use browsers back button. Our Imperial AF tool range of sockets and wrenches are here.
Baconsdozen Imperial Tools
Mail order worldwide of tools for classic,vintage and veteran cars,motorcycles and other older machinery.
Tel 01472 353993