About Koken. Quality sockets from Japan.
Koken of Japan are one of the worlds largest socket makers and well respected. We sell Koken and other makes of high quality sockets in Whitworth / B.S.F, A.F and B.A sizes in deep,normal and impact form. The Koken sockets are perfectly suited for a professional car restoration or repair workshop,accurately made and strong they will perform well for many years. The picture below is of a typical Koken,chrome vanadium steel, twelve point deep 1/2 drive one and a half inch AF hub nut socket. We are able to offer imperial (Whitworth and SAE) sockets in standard and deep versions and in six or twelve sided in 3/4,1/2 or 3/8 drive. These sets are invaluable for the classic car owner and repairer.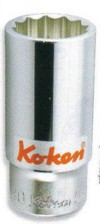 The common 1/4,3/8.1/2 and 3/4 inch drive sockets are only a small part of the Koken socket range,they manufacture imperial and metric sockets from quarter inch to a massive three and a half inch square drive. We stock a variety of specialist sockets suitable for hub nuts,ball joints and injectors etc in Imperial sizes as well as the Koken range of precision BA sockets. BA (or British Association) nuts and bolts are often used on electrical fittings etc on vehicles and motorcycles made pre 1960s and in many cases much later.
The Japanese socket maker Koken originated and developed the 148 degree 12 point configuration which they later refined to include a rounded profile to bear on the flats of a nut or bolt and not just the corners. Using this configuration modern sockets are better suited for the repair and servicing of older machinery and are capable of turning rusted or worn fastenings without further damage and provide a better grip than the older designs and enabling more torque to be applied. Koken also manufacture a full range of socket extension bars,ratchets,breaker bars and T handles etc.
| | | |
| --- | --- | --- |
| Six sided BSW sockets. | Deep BSW/BSF and BA sockets. | Twelve or six sided BSW/BSF and BA sockets. |
Click here to go to our page of Whitworth,BSF and BA sockets .The Imperial AF sockets are here. To then return to where you were use your browsers back button.