A P5b Rover. 3.5litre V8 coupe.
A rolling restoration,repairs,servicing and using as a daily driver.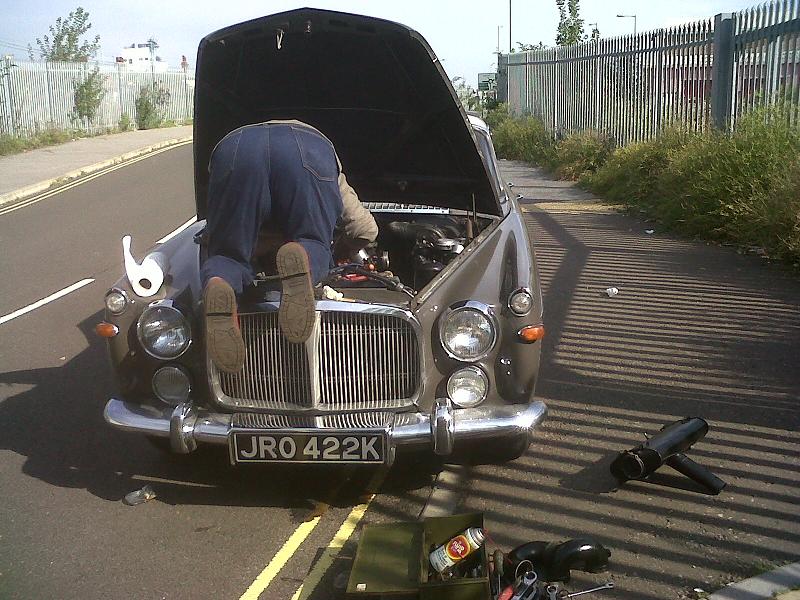 I have owned this car for years,its no show winner I wanted it to look original and not over restored.Most work was done outside and as a running resto.
I am always interested in buying spares to use or swap etc,I still have some tools etc to clear.
The P5b history..Considered by some classic car enthusiasts the last of the 'real' rovers and often called the poor mans Rolls Royce,the Rover P5b and P5 were both made as saloons or coupes. Originally launched in 1958 as the P5, the cars were fitted with a three litre six cylinder in line engine with over head inlet and side exhaust valves,an engine basically carried over from the P4 series (Rover 90,100,105 etc) . The P5 series cars ran to three versions MK1,2 and 3 each version being updated and improved on its predecessor,eventually the P5 was replaced by the P5b, updated with Rostyle wheels,built in fog and spot lights the orginally Buick designed alloy V8 engine (modified by Rover) and a Borg Warner type 35B automatic gear box. Both the P5 and P5b versions have torsion bar front suspension,a front sub frame but no chassis. All but the very early cars have disc front brakes,all have drum brakes on the rear with a solid axle on cart springs.Long after production ceased in 1973 they remained popular for their essentially old fashioned British character and today attract quite high prices with a dedicated band of enthusiastic owners.The essential character of these cars,which they share with the earlier P4 series is that of a heavy,solid and well put together vehicle, in some areas over engineered and complex, they were assembled largely by hand. It is often said that build quality got worse towards the end of their run as Leyland took over from Rover.When new they were regarded as an expensive,quality vehicle often used as ministerial cars,but now even their most ardent admirers will admit that they now show a capacity to rust especially in areas normally unseen.When new they were compared to the large Humbers,Jaguars and Rolls Royce. I have bought a Silver Shadow and the comparison is vaild.
The facebook page about this and other P5,P5b cars is here.