Baconsdozen Imperial Tools.
Sorry but to concentrate on tool sales
clothing is now to order only and gloves will not be replaced when sold.
Our weatherproof clothing is tough and hard wearing yet flexible,more comfortable than old fashioned oilskins but still totally waterproof so fit for work in a commercial enviroment.
For commercial fishing boat crews,anglers,sailors,farmers and builders or anyone working outside in wet weather,we stock Elka Fishing extreme rainwear ,rubber gloves
and full length gauntlets and the big old fashioned traditional souwester hats . Waterproof clothing is available in sizes from small to xxx.large and is perfect for foul weather use.
The Elka waterproofs are suitable for outside work or pressure washing and steam cleaning etc.They are designed to be give protection to the wearer in a commercial,hostile enviroment.The combination of smock and bib/brace will keep you dry and normal clothing can be worn underneath to keep you warm and the clothing can be taken on and off quickly.
---
Elka Rainwear Fishing Extreme
Totally waterproof clothing.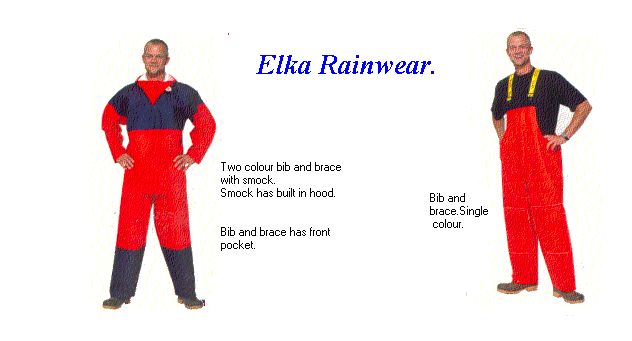 Made from oil resistant PVC/Polyester on a woven base,hard wearing,weight 600gm/sq.m.Adjustable,clip on braces,the smock has a built in front pocket and hood with no buttons or zip simply slip on over your head.Designed to be worn over clothing and rubber boots.The modern material unlike,the old fashioned oilskins will not go stiff in cold weather and is comfortable to wear but is still tough and hardwearing.This waterproof clothing has no zips or buttons etc to snag on machinery.
Foul weather clothing is available to order only.
Complete set waterproof clothing Bib/brace plus smock £78..00p.(Add £8 for a set in XX large and above).
---
Souwester rain hats keep your head dry..
Souwester hats these are hand made locally,and are exclusive to Baconsdozen.Heavy PVC on canvas material.The traditional souwester design is very long at the back keeps water from running down your neck even bending down. You can even use them as a bucket or bailer! Traditional yellow,or black available, one size fits all with a thick non adjustable chin strap. £19.50p.Post to UK (non refundable) £2.50p.These are designed to do is keep your head dry,they don't look exactly elegant and the material is thick and heavy,but you could wear one in the shower all day and not get your hair wet.We sometimes have these in other black or colours please ask.Ideal for boating,walking or working in fields,we've also sold them for theatrical and film use.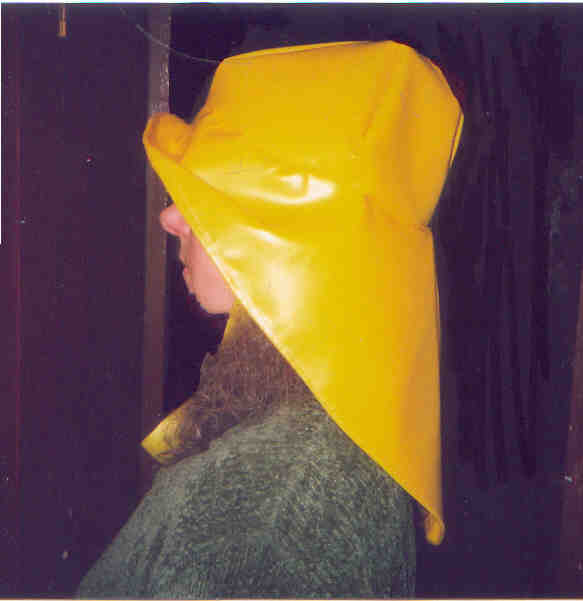 ---
For credit card orders or enquiries please Phone (44) 01472353993
You can e-mail us,the address is... sales 'at' baconsdozen.co.uk.

Baconsdozen Imperial Tools.
.