Sou wester or Souwester,it's a fishermans hat.
Elegant they aren't,but the long back of these traditional souwester (or sou wester) hats keeps the rain,even in a heavy storm,or sea water from running down the back of your neck and the big brim keeps water out of your eyes.
They also double as a bailer or emergency bucket.Material for the souwester is a heavy yellow PVC on canvas backing (similar to the traditional oilskins),and adults are made as one size to fit all,but we can do childs or larger sizes.The rain hats are hand made in Lowestoft which was once a major UK commercial fishing port.The strap is fixed,non adjustable and worn hanging down loose at the front because these are designed for working in the hostile enviroment of a commercial fishing boat where a tight strap could prove dangerous if it caught in machinery.The traditional colour is a bright yellow, but black sou'westsers are also available..
.Price £19.50p Post to UK (non refundable) £2.50p..
For anyone out in foul weather,fishermen,vegetable pickers,farm workers and Paddington Bear look alikes,these will keep your head dry in the middle of any storm.
There are google checkout and paypal buttons at the foot of this page,if you prefer you can ring us woth a credit card to hand on 01502 584575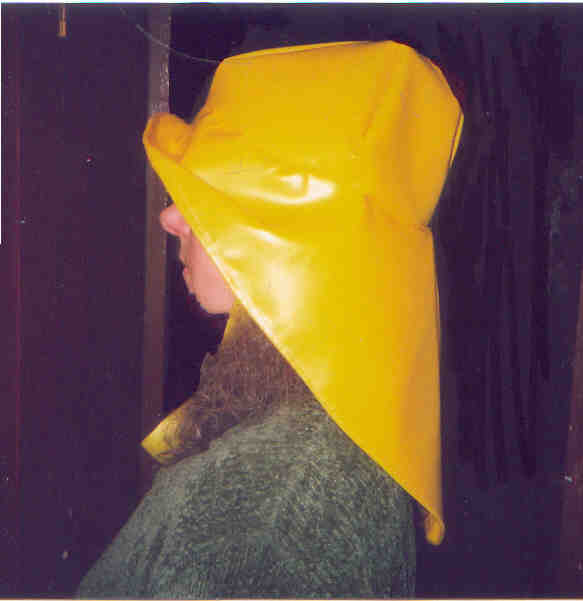 The Elka heavy duty waterproof clothing we sell has a rain hood fixed to the top.Some fishing boat crews prefer the seperate souwester type rain hat,which can be worn with all brands of waterproof jackets or smocks.


Baconsdozen Imperial Tools.
13 Waveney Road
Lowestoft
Suffolk
NR321BT.
Tel 01502 584575