Building a home made campervan.
The story of our old 307D mercedes van.
Reincarnated as a motorhome but ultimately it died all over again
Originally used to go to auctions and markets then as a delivery van for our shop and chandlers in Lowestoft ,our old merceds van was redundant and a bit frilly round the edges.After well over 250,000 miles and astonishing reliability we were reluctant to pension it off and decided to convert it into a home brewed motorhome or campervan.
Selling tools at markets,autojumbles,car boot sales and auctions.

For a while the mercedes was used for deliveries to Lowestofts fishing boats.

Our budget for the campervan conversion was easy to work out (as little as possible),and we'd do everything ourselves.

A lot of the materials were secondhand as were many of the fittings.

We also had to carry out extensive welding repairs to the bodywork,the engines on these mercedes might go on for ever but the body and chassis corrode quite badly.

One of the first things to do was cut out rust and rot,and oh boy there was plenty of it,the tyres and windscreen were about the only rust free parts left. The sills and rear wheel arches were replaced with panels from Hadrian and V-W parts auto panels who had a good stock of mercedes parts.Initially rivetted in place then welded the finished repairs were then treated with Fluid film As I was working outside,I didn't want the gas shield that a gassed welder needs blown away so I used a Draper gasless mig welder,which coped easily with the whole job.

The most time consuming part was cutting and bending steel sheet to fill in where various panels and sections were missing altogether.

The inner wheel arches were mainly car body filler over newspapers and riveted aluminium sheet.Thankfully most of the chassis was sound and with the outer sills removed it was reasonably easy to make up and weld in new inners.

The welding wasn't to classic or collectors standards but was strong enough to pass subsequent MOTs..

Near side sill was basically a load of filler and old copies of the Daily Mail..

Wheel arch literally came off in my hand."Oh Popeye you're so strong".

With the repairs still in primer I fitted a window in the sliding door,and another in the opposite side panel.I used a hand nibbler which left a neat edge,the metal removed was nearly all welded back in around the sills and wheel arches The windows came from a LDV in a rather unhelpful breakers who charged for each window about what they probably paid for the whole van they came from.With hindsight I would have been better going to someone like Leisure Windows or even buying a scrap transit or LDV minibus.

Windows in caravans and motorhomes must be laminated or toughened,ordinary household glass is both illegal and dangerous.

The roof was changed for a fibreglass one from a scrap mercedes from a mercedes dealer in Norwich."Vorsprung durch technic" you know.It wasn't untill I'd started to cut it off that I realised th donor was a short wheel base version and it was a foot too short.

As it was,I had to cut it and insert a section .Three steel hoops supported the new roof.

With hindsight I should have fixed the front section higher or re-shaped it to gain extra storage space further forward.

Part way through fixing the new roof.It was fitted with rivets and then bonded with fibreglass resin and metting.

We used the van even while some work was being done.

This was Aldeburgh beach in Suffolk on a November day,handy for a bit of "wild camping" and enjoying the sea views.Unfortunately the second home owners of Aldeburgh have,like the residents of various other seaside towns decided they don't want riff raff in motorhomes and campervans enjoying their scenery so they are now banned. Gt Yarmouth on the east coast of the U.K used to have places to stay overnight by the sea for a bit of wild camping then it too decided people in coaches,HGV's and motorhomes were to be discouraged, now if you're in a campervan or motorhome you're made as welcome in some of these so called holiday resorts as a fart in a space suit.

The interior facing rearwards..We needed floor space as two large dogs would be keeping us company.A secondhand bed settee provided the basis of a bed,using a table top to infill.The hideous green was removed and replaced with brown draylon.( Actually long curtains from one of Lowestofts charity shops).Forward would be the kitchen area,with a door through to the cab.With the interior stripped,carpet was bonded to the original ply floor..

Interior looking forward before the front roof section was fixed in place.

The van was at one time refrigerated,the plywood interior panels were retained but the foam insulation was removed to reduce the fire hazard.The wooden bulkhead was originally cut witha jig saw to allow a door through to the cab,but it was soon removed to increase space,only the part behind the drivers seat was retained.Three sheets of hardboard fitted to wooden battens lined the inside of the roof.
| | |
| --- | --- |
| | Pretty much the same view part way through conversion.The combined sink,grill and hob unit came from a car boot sale.We painted the plywood lining the van interior white to brighten the inside.The dark wood stain was a mistake,we decided to strip off the varnish and stain and re do it. |
The finished interior looking forward.

A 12 volt television fixed in the full length cupboard on the left replaced the portable 240 volt one,as the mains inverter from Northern Tools which supplied it lasted about as long as a cough sweet before expiring in a cloud of smoke.Under is a sealed steel gas locker and storage for a portaloo.The space over the cab provides storage,I bought a second hand seat swivel for the passenger seat and curtains behind the windscreen and side windows screen off the interior.The original sliding side door has been left to provide access.

A table clips to the rear doors,it's bigger than the gap between the seats and is stored over the cab at night.A board stored under one of the seats and the back rests to them are used to make up the bed.An electric cool box and small battery powered tv/radio complete the rear compartment.

The total cost,ignoring a lot of hours and the cost of the van was only about £300,I'm not too proud to look in skips or buy clearance,second hand or damaged goods.

These mercedes or the similar sized ford transits and the bigger renaults etc either as vans ripe for home conversion or purpose built motorhomes can be picked up when tatty cheaply enough,a bit of graft a few quid and anyone can give motorised camping a go.
When the windscreen cracked,it was removed for replacement and it seemed that only force of habit had been keeping it in!.

Very little of this rot was visible with the screen in place.Cardboard templates were made before removing the screen to help keep whatever shape this section was supposed to have.

Water had been getting round the windscreen and rubber seal and travelling down and into the bulkhead.This caused the rot under the screen and the rot in the floors shown below.The early Mercedes vans had a reputation for rusting,this one was no exception.

A strip of steel was cut and bent to shape and then tack welded in place.Another piece was let in below after more rot and filler was dug out.Before using a mig or arc welder remove the leads to the alternator and preferably the battery.The surge currents generated when welding or even boost strting or charging can damage the diodes in an alterantor or affect delicate electronic equipment.

With the welding done and ground down with an angle grinder filler was used to smooth the joins.With vans as old as this there are bound to be all sorts of things hidden under paint and underseal.You have to be realistic, without stripping the thing completely,removing all paint and underseal it will be a fairly constant battle to keep rust from devouring the thing in the end.

Windscreens Direct in Lowestoft (01502 538313) fitted the new laminated screen and did a superb job.Try them for flat glass windows and older screens as well as the more modern ones.Laminated glass is much easier to crack than the older toughened screens.I was amazed how an experienced fitter can push and press a laminated screen,even hitting it with the flat of his hand.The new screen fitted the repaired windscreen surround well and did not leak.
A puka Mercedes workshop manual is mega money and Haynes seem not to realise Mercedes made thousands of these vans.I found it worthwhile to get at Mercedes 240D manual which gives some engine details.Most of the metal brake pipes I replaced using one of the cheap pipe flaring tools I sell on ebay.
A year after the conversion to a motorhome and yet another rust hole in the floor.The van is parked close to the sea and its amazing how fast the salt air can rot out steel especially when like here it's able to get under the factory applied underseal which has hardened with age.Having said that it's the idea of checking tyre condition from the comfort of the drivers seat might just catch on.

Hopefully the van will go a bit faster.You've heard of "Press the pedal to the metal" I'd run out of metal to press to.

More rust in front of the seat boxes.This just goes to prove neglecting to fix water leaks in any vehicle is a recipe for aggro later on.I ignored a slight leak from the door seals, lifting up the damp carpets revealed the tin worm had got a good hold on the seat bases.Adjusting the door gaps or renewing the rubber door seals would have saved dragging the welder out of hibernation again.

Not many body repair panels are still available as pattern parts for the Mercedes 307D and none of them are cheap so you often end up making your own from hammered out sheet steel..

Both the rear quarter bumpers were just hanging on to rusted out brackets.Behind this tatty panel are a couple of short box sections going to the main vehicle chassis.These had also rotted out,and were easier to gain access to with the old rotted section of the bodywork removed.

With the remains of the old panel cut off it was possible to weld a new section to the body.The base of the new section was turned over to form a fixing for the outer covering panel.When the fit of this was satisfactory the V cuts were filled with small wedge shaped sections.Notice how I try and make it sound like I know what I'm doing.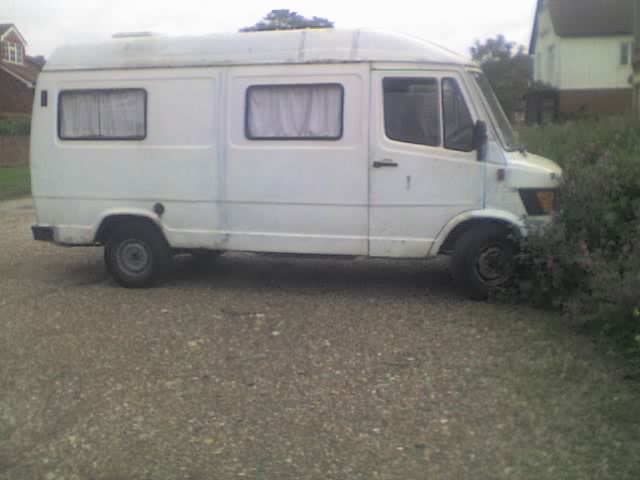 Picture taken close to kessingland beach near lowestoft.This was pretty much the last time we used the mercedes.


After 350,000 miles the engine was hard to start when cold and became addicted to 'Easystart'.Diesels won't tolerate this stuff for too long eventually it knocks out the big ends and washes any oil off the bores so the rings wear badly which reduces compression still further.
The clutch started to judder and oil leaks got worse.Mercedes might make one of the worlds most reliable vans,but the price and availabilty of parts are pretty dire for the older ones.
Reluctantly I took it to a so called vehicle end of life center Faithfull to the end it got me there and was crushed,it's probably already on the way to making bicycles and cheap crap toys in China or India.No one recycles parts anymore it seems,the old van will cause more pollution dead than it ever did whilst trundling about.How on earth does that make sense all those green campaigners?.
The mercedes had performed well as a motorhome/campervan,it was a bit cramped inside and the sleeping arrangements were poor .At the beginning of June 2003 I bought a 1976 Mark 1 Ford Transit coach built motorhome at E-Bay.Its the ventilated model with extra holes in the inner wings,floor pan,step sections and various sundry chassis sections.It was though as described on the auction page and exactly what I wanted,the pages featuring the transit carry links to part suppliers and owners clubs etc access it by clicking here..If you are interested in old camper vans and motorhomes please look at the classic campers club,you can get to them here.
My Mk1 Transit motorhome as bought.V4 2000cc engine,four speed box,twin rear wheels,drum brakes all round.The Ford V4 engine was fitted to the Ford Corsair some were also made with a 1700cc version.Transits were introduced in 1966,I think it's fair to say they had problems with rust,axle whine especially on the twin wheel versions and the V4 engine was maybe not the best in the world early ones especially had oil pump,timing gear and head gasket problems.However for the price the Mk1 transits provided a huge carrying capacity and many clocked up massive mileages.Transits are still around after various face lifts and re-vamps although the newest models have only the name to share with the oldest.

A Lowestoft firm Withams introduced me to their Supercote paint which they matched to the existing colour perfectly,also in Lowestoft T and J Commercials in Pinbrush Road dealt with my queries re axle weights,Class 4 and 7 requirements etc and were very helpfull.
I wanted a vehicle to use as a van and runabout so I bought this retired london taxi cab.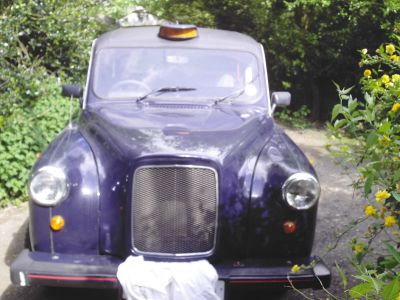 Made by Carbodies its a 1993 LTI fairway,it's done about 300,00 miles and the rust bugs had a bit of a nibble on the doors and wings.These taxis are now being scrapped in their thousands,a throw back to that loony Livingstone,who is to the conservation of Londons heritage,what Watergate was to Richard Nixon. Boris has the chance to stop the destruction of perfectly sound taxis but hasn't done anything about it.
On this one the sills are full of holes and there's filler hiding up all sorts of mischief,time to dig out the MIG welder.The taxi has got its own web page here.
---
It's too late for the old merc,parts of which are probably already back in the UK in the form of cheap chinese tools etc but....

I've tried most rust proofers and preventers with varying results over the years.I decided that the marine industry must know more about corrosion than most,given they use steel boats in salt water.Lanolin (obtained from sheep wool) is used in many of the treatments used on oil rigs,boats and shipyards.One that was recommended by various sources and is used by the American coastguard is Eureka Fluid Film.Made in California it is approved for use on submarines and the space industry.It is not cheap.

It is solvent free and non toxic it has been extensivly tested in the hostile enviroment of the sea for some fifty years.It does not damage plastic or synthetic rubber and does not evaporate or harden.I have bought a number of aerosols and gallon (US gallon) cans.

Please contact me if interested.
Orwell trucks .Parts storemen friendly,plenty of spares for older mercedes commercials.
JAC Campers. Conversion of vans to motorhomes and spares etc.Have a look at their site
.
Beever body panels. Supply pattern replacement panels for a selection of vans and cars.
Hadrian Car Panels. Panels for repairing or replacing rusted sections of various vehicles.
Truck Busters. Breaking for spares all mercedes and ford etc vans,quick mail order service.
UK campsite Lots of contacts on the forums for people who have converted and repaired older vans.
.
The old style breakers yards have all but vanished mainly due to EU regulations designed to ensure we all get to live forever surrounded by the smell of antiseptic.Some spares come up on ebay,ebid or other auction sites,keeping an old vehicle on the road must use less energy and cause less pollution than making a new one,but what do I know.
---
.If anyone has any info etc relevant to these page that they wish to share, or any parts or spares Mk 1,2 or 3 Transits or even LTI fairway taxis or Rover P5bs they want to sell,please e-mail me click here
Powered by WebRing.
.Baconsdozen specialise in the sale of whitworth/BSF,BA,af and metric tools,car and light commercial servicing and repair equipment etc..
---