Repairs,updating and rolling restoration of a Mk 1 V4 CI ford transit campervan

Restoring rusty body work and tired mechanicals.Converting to disc brakes and adding an overdrive. Sources of spares,information on old ford and other motorhomes .

The coachbuilt transit motorhome was bought on eBay,it is a CI motorhome originally registered in 1976. It's rolling resto and modifications have been carried out over some years.All work was done outside,its too big to go under a carport or in a garage.

The idea was to get the motorhome back closer to its original condition with an on going restoration and without spending a fortune.I fitted an overdrive gearbox from a transit ambulance,rebuilt one engine (later replaced with another modified,reconditioned one) and converted the front brakes to disc.

With its original drum brakes,cart springs all round and the often criticised 2000cc Ford essex V4 as distinct from the later 'Kent or Pinto engines.The V4 petrol engine was shared by some Ford Corsairs,Capris and Zephyrs, driving one of the Mk1 is like stepping back in time a few decades.

The door steps,floor and underneath.
Front wheel and door removed to make life easier,the step was loose and rusted through at the front edge.It had been repaired with rivetted patches and fibreglass a few times in the past.The steps were available as relatively cheap pattern repair panels,now such repair panels are probably obsolete although occassionally they crop up on Ebay.

The inner wings on both sides had been plated previously and a couple of rust holes needed welding, I mig welded bits of sheet metal cut from my scrapped mercedes van ,vorsprung durch technic etc.

The step and sill,part of the chassis section and wheel arch inside the cab had rotted and broken away from the floor. I think it's as easy to weld a big hole as a small one so all weak metal was cut out.The areas round the hinges were strengthened with the doors jacked up to force the hinges back into position,both had dropped quite a bit the bodywork around them was weak due to the corrosion. Doors on old cars tend to sag,as do body parts on old people

The off side wasn't quite as bad but the whole step was removed with an angle grinder.This was a few years ago when the door sill sections were still relatively easy to obtain.

The chassis section in front of the seat was thin with corrosion and replaced.When finished all the chassis sections were treated with Waxoyl or Eureka Fluid Film internally,the outside painted then undersealed.

There were small holes in the floor where water had collected under the rubber mat.These were cut out and small plates butt welded into the holes.

One area of floor a few inches square was thin and perforated in a couple of places . A piece of sheet was butt welded in the hole after it had been squared off. The floor had been undersealed and some surface rust was apparenet under it so the whole floor was wire brushed and painted after welding.

The underneath of the crossmember was weak.A new swction was made complete with a square plate to take a trolley jack or axle stand.

The shackles were sound although some welding had been done before. The underseal was scraped off and they were done with red oxide.

Both headlamp bowls had rusted through at the bottom,using the top half to make a pattern new pieces were made and welded in.The funny little sidelights on top of the wings were removed and the mounting holes welded up.The bonnet had been badly patched with riveted repairs along its front edge,rusted bonnets are a problem with early transits.I bought a secondhand Mk 1 bonnet from ebay in better condition and repaired it.

The door pillar was rotten under a load of filler and was making the wing weak. The wings had been replaced at some time but fitted very badly with large gaps and poor alignment .New Mk1 transit wings rarely turn up,when they do they change hands for well over two hundred pounds.

I patched the holes,the welding is not very neat but its strong.

When repainting a couple of years later I cut out a thin strip of metal from the back of the front wings.

Welding the edges together pulled in the wings so they aligned better with the front of the doors.

There were holes where fairly localised rusting had simply been covered with filler.Rather than replace the whole panel (which would have to be a better secondhand one as they are not available new) the damage was cut back to sound metal and repaired by patching with new metal.

First the rot was cut out and the hole 'squared'.

Using a paper pattern a small piece of sheet steel was cut and bent then filed to get an accurate fit in the hole.The metal was ground back around the edges and the plate tacked in place

The patch after it had been tacked in place.
The welds were then ground down flush.It would have been more satisfactory to have joggled the edges of the plate,it was far too easy to blow a hole where the panels joined.

The coach built living part

The only bit of the alloy body that needed work was an old repair to the front nearside covered with a riveted patch.Water had penetrated the wooden framing but the damage was localised and easily repaired from inside with the old interior panelling cut back.You never really finish a job like this work is still going on but the vehicle is now in use.

Door skins.
Both doors were a bit grim,the bottoms had rotted through along their entire length.I plug welded in long thin lengths of sheet steel to keep the inner and outer door skins together.To try and keep the bottoms straight I clamped a piece of angle iron along the base.Before removing the doors I measured the amount the outer skins would have to be brought back in by for a reasonable fit.

Getting the engine running.
The water pump bearing was worn and I removed the front panel to make replacing it easier.The panels fixing bolts inside the wheel arches were corroded and the captive nuts broke loose as soon as they saw a spanner,I cut them all out with an angle grinder.Corrosion from water running from the wing channels either side of the bonnet meant the landing panel had six inches missing either end this was repaired.I later removed all the horrible underseal in the engine bay and repainted it
=The box section behind the front valance was badly corroded,normally it is hidden.I had to remove a section of bodywork under the front grille with an angle grinder to get access to the rotten front section.The valance was repaired after the cross member had been welded and new mounts made for the bumper irons

New engine rebuild.

The original engine developed piston slap when cold, although initally loud,it virtually vanished at running temperature,testing by removing plug leads,or squirting oil down the bores etc suggested it came from the two pistons on the left hand bank although when the engine was dismantled they were not seriously worn or damaged. It got no worse and probably would have carried on like it for years but removing the engine also meant it would be much easier to weld the weak areas on the front cross member.(see above).I bought another engine and rebuilt it ready to swap over.

Fords Essex V4 as fitted to the MK1 transit,Corsair and Zephyr 4 was never a quiet or smooth engine when new,they are rough and unrefined compared to modern engines but fitting an inline engine in a flat front Mk1 is difficult without altering the bodywork by fitting a diesel front panel and bonnet for example.The later Mk2 and Mk3 versions were fitted with inline engines and different front panel,wings and bonnets.

I didn't notice a big improvement over the standard twin leading shoe arrangement untill I changed the original Mk1 combined servo and master cylinder for one out of a Mk3 transit .The servo is much larger and greatly reduces pedal pressure.The bonus is that parts for Mk3 transits are somewhat easier to obtain than the earlier Mk1 and 2's.
The king pins and bushes were replaced at the same time as discs were fitted to the front axle.
Links to other transit sites,spare part suppliers,clubs etc.I've used some of these, but not all.The comments are mine,true and accurate.
Transit MK1 and Mk2 repair panels,wings,bonnets etc.
Smith and Deakin , good quality,strong fibreglass wings and bonnets for early transits and other early cars etc.Have had good reports from customers.
Spares from Germany. German company (old-cars de) supplying spares for Mk1.These vans (using cologne engines) were used in Germany as fire service support vehicles.
Essex V4 engines,gearboxes and running gear,new and secondhand.
Tickover , Some early ford capris used the 2 litre V4 engine and tickover know all about capris.Carry some spares for the V4.Replied to my queries quickly and gave good advice.
Essex engines. Engine spares for the Essex V4 and V6 as well as the Cologne series engines.Sell the hard to replacements for the fibre timing gears.Newer ones are normally alloy and much longer lasting.
Speedy Spares , a suprising amount of mail order spares for all types of classic cars and other vehicles,friendly fast service when I used them.
Burton Power, specialise in tuning parts for modern fords but supply some parts for older Fords including replacement timing gears for the Essex V4 and V6 engine.
Specialised Engines , spares,repairs and rebuilds of the Ford Essex V4 (and V6) engines.Replied speedily when asked about availability of ford engine parts.Reconditioned V4 engines still available.
Midland Classic parts , all sorts of spare parts for classic cars,well worth a look.
Truck busters, specialise in light commercial vehicle parts, mail order anywhere..
Dudley Transit Centre ,Breaking all transits and selling a wide range of new and secondhand spares.
Restore online , collectors and classic cars and adverts for spares and parts etc.Be warned that some adverts are very old.
Suspension,brakes other mechanical spares.
Jones Springs , repairs and new leaf springs (made to pattern) for all ford transits no matter how old.Quick to reply to queries and friendly too.
Owens Springs, another company specialising in repairs and refurbishment of leaf springs.New ones made to pattern.
Brake parts these still list linings and pads for the earlier transits.Mail order both quick and efficient.Handy diagrams and dimensions of pads and linings on their web site.
Brake world . wholesale only but they'll give you the number of nearest retailer to you.List a lot of older stuff,handy for part numbers and pictures of pads and linings etc if nothing else.( I can source brake cylinder rubbers for early transits).
Bosal Exhausts . online catalogue,gives parts numbers and pictures.V4 transits now considered obsolete,but later ones are catered for.Handy for working out what other exhaust bits you might be able to use to custom build an exhaust or repair an exhaust system.
Trim,windscreen rubbers,door seals and window glass etc.
Woolies , specialise in mail order of all rubber parts,door and windscreen seals and interior trim,when I ordered some rubber sections for the transit doors I found them helpfull.
East Kent trim, useful little catalogue gives dimensions of the trim they stock,mail order both quick and efficient.
National Windscreens. quoted me £90 to supply a Mk1 transit screen or £115 to supply and fit (summer 2005).The Mk1` and Mk2 windscreens are the same,the screen rubbers slightly different.Phone 01733 552244. I have some spare new windscreen rubbers for Mk 1s.
Clubs for old camper vans and motorhomes,spares,repairs,general old car sites,forums,insurance etc
.
Classic Camper Club , a must see site if you are into restoring,repairing or using old,classic camper vans,caravettes and motorhomes etc.

Transit Forum.Do you need help or advice about your transit or do you just want to chat with other owners from all over the world?.Joining this forum should be an esential part of your transit ownership.Absolutely free,no catch.
UK camp site , A brilliant web site,includes a forum with loads of info on transit Mk 1 and Mk 2,camp site guides and loads of other stuff of interest to campers,motorhome owners etc.Free to join,seem very friendly.


Waveney Motorhomes. Near me in Lowestoft,repairs servicing for motorhome and an online shop.Small family run business who also operate a mobile service.
T and J Commercials Lowestoft. It can be a problem finding a garage equipped to undertake MOTs on large motorhomes.These can MOT ones of any size and you can book online.
Caravans and motorhomes for sale.Lots of motorhomes and caravans for sale,popular site and a big selection.
Motorhome links.Loads of links to all sorts of motorhome and campervan sites,well worth a look.
DIY mig welding. Welding tips,welders compared and tested,handy for welding wanabees,even a forum.
Ex-pressed steel panels , these produce new body panels for older fords.Cortinas,Mk 1 Escorts,Anglias,Prefects,100Es etc.No transit stuff as yet though.Keep watching.
Collectors car parts ,specialising in older fords.Exhausts,shock absorbers,struts and engine parts.Based near heathrow airport.
Old Ford Auto Services ltd ,fibre glass wings and body panels for some older fords,suspension mods and parts.
Classic cars, used cars at ClassicsAndCustoms.com Classic Cars and Trucks for sale, Muscle Cars, Street Rods and More.
Preloved, all sorts of secondhand gear and car and commercial vehicle sections
Early days,the transit on the way to its new home.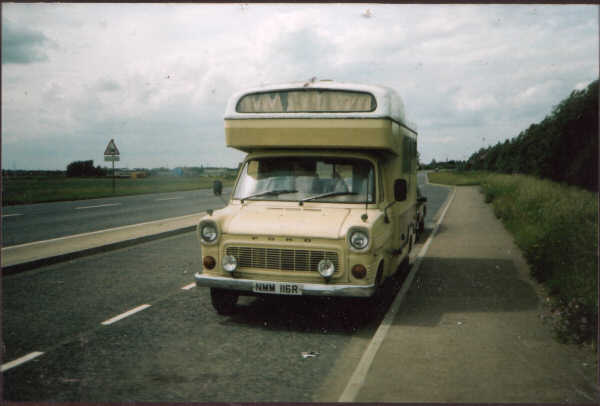 Ford Transits a potted history and spare part swapping etc.
The V4 Mk 1 Transit was current from 1965 to about 76 when it became the Mk 2, when along with other mods the V4 engines were changed to the OHC inline fours.( A few MK1's were fitted as standard with a four cylinder inline engine) Very early (to about 68) models had different clutches,after 1970 the pedal assembly was completely changed and moved from the floor to the bulkhead.The pre 1970 modles have a solid rod actuating the clutch,the later ones use a conventional cable. The V4 engine (called the Essex because thats where it was built) was used on some Ford Corsairs and Capris (as an alternative to straight four cylinder engines),it is not the same as the Ford Taunus V4 (known as the Cologne and also fitted to Saab V4) although confusingly German built transits did use the Cologne V4 engine.(Australian transits used much larger engines see the transit forum for pictures and details) The 2000cc and 1700cc versions of the V4 engines are virtually identical externally,their internal components aren't as the increase in capacity was gained by using a crankshaft with greater throw and different pistons.The Ford V4 is inherently unbalanced and uses a seperate internal balance shaft to try and absorb engine vibration,when the bearings of the shaft wear,vibration and noise become apparent.Ford V4's had Autolite,Zenith or Weber carbs,the Zenith and Ford are swappable the twin choke Weber (which was used on the 2000E Corsair) needs its own manifold.The 2 litre OHC meant a redesigned front panel and bonnet,disc brakes also appeared on the front wheels.1986 was the next big change.Late Mk3 and subsequent transits use independant front suspension with coil springs the early ones use a beam front axle and leaf springs.The suspension components on Mk 1,2 and early Mk3 are swappable,the doors and glass are as well. Most Fords of this era had common door handles,bits of interior trim etc so any auto jumble is always worth a look for spares.The road springs on pre 70 vehicles were a different rating to the later ones although many will have been changed by now.Rear axles vary in type as does the prop shaft,on long wheel base versions a two piece shaft is used.The current ford transits share their name only with these early versions.
A popular swap with transit owners was to copy some ambulance and police vehicles and replace the V4 with fords 3 litre V6 usually by using a transit diesel front panel and bonnet,uprating the front suspension to carry the extra weight..The resultant beast was as fast as it was thirsty and loads of fun.The Essex V6 was fitted in ambulances up to about 1988 often with an overdrive gearbox,the V6 found its way into a lot of other cars from AC's to Reliant Scimitars and Fords own Granadas and Zodiacs.The V4 is in some ways a V6 with a couple of cylinders missing as the six cylinder engine was developed from the four.
The V4 engine is rubbished by some sections of the classic motoring fraternity, its a bit rough and not very efficient,but its also one of the only engines that will fit under that short bonnet and the engine design is now well over 40 years old..I think some of its reputation for unreliability was a result of its use in the very underpowered Zephyr V4,where a hard working engine and low radiator gave frequent air locks and over heating problems.The fibre timing wheel driving the camshaft and fragile oil pump drive are weak points.The timing wheel was weakened if the engine overheated and apparently shrunk at very low temperatures.The original all fibre timing wheel was superceded in the mid 70's by a wheel using nylon teeth but this was not a total cure.It's possible to replace the timing wheel with an all steel one although these are expensive (mail me for details or use the links above) and using modern lubricants and avoiding revving a cold engine should help the oil pump drives survival rate.The engine was used in the Corsairs,a few early Capris,the odd Marcos and at one time sold as a conversion for the NSU R080,it also turned up as an industrial engine driving waterpumps and generators etc.
The German ambulance and fire service used Mk1 transits with Cologne V4 engines suprisingly recently.(one is often featured on the transit forum,there's a link to the transit forum site above).
I accept no responsibility for errors in the above,I'd welcome other owners input and comments.I'm also trying to put together a list of parts from more modern vehicles that will fit these early vans and welcome suggestions.Please e-mail me.
You don't need much in the way of special tools for the older transits.I sell hub nut sockets to fit the transit range (and IVECOs) here .A mig welder,tin snips and a hammer and chisel will take care of the body,a decent tool kit the mechanics.All you'll need then is time and enthusiasm.

Buying an older transit van or camper.
Finding a van is probably the hardest bit.Have a look on the transit forum (link above) which is also the place to ask any questions you might have.Ebay is another selling place or the ads in any local paper,theres ad trader and lots of other places to look,try and look at as many as possible,try to avoid buying the first one you see (unless its a bargain of course).Keep asking questions,if it all goes wrong you could end up with a very large and heavy lump of iron thats impossible to get rid of.Bear in mind your neighbours might not be thrilled to have a rusted old van parked in the road outside.
Rust on transits can get a serious hold on the front cross member and the front spring hangers and is the first place to look,it can be very difficult to repair.The sills and chassis sections are easier to repair but the rear spring hangers are also difficult and a current MOT should never be relied upon as to the structural integrity of any vehicle.The body panels are expensive and very rare in steel,even fibreglass parts will make a big hole in any restoration budget.Although some mechanical components are hard to source the early transits are quite tough mechanically.The springs will have almost certainly settled after thirty odd years and replacement is expensive,try and get at least three fingers between bump stop and the axles.Axles whine especially on overun but generally carry on for years even so but the noise can drive you potty on a long journey.Gearboxes should be quiet,the clutch musn't slip as replacements are now difficult to find.The early transit drum brakes aren't really up to modern standards and finding the hydraulic parts to repair them is tricky.The first transits had pedals emerging from the floor rather than the later pendant type pedals and parts for these are scarce.It is possible to convert the early type,but the bulkheads are different so the conversion is somewhat involved.The ford essex engine isn't smooth or silent at the best of times but look for blue smoke (worn rings or valve seals) and heavy knocking noises and vibration (worn bearings). Check the coolant for oil (head gasket problems) also have a look at the exhaust system as the twin down pipes and front silencer are now unobtainable.The very early (before 68) engines are the least reliable and some of the internal parts like oil pumps are now unavailable,a badly worn one will prove an expensive job to put right.Don't be afraid to ring or contact any of the people above to check on the availabilty and prices of parts before deciding to buy any particular van.I recommend joining a club for help with spares and advice.You'll not do much better than 25mpg and you'll need a lead replacement compound (unless the owner tells you the engine has been converted to lead free).
Don't get put off by the first bit of rust you find or the first parts storeman who says "I thought they'd scrapped all them by now".Enjoy owning,driving (and repairing) your own little bit of motoring history.I've now started work on restoring an old london taxi and a Rover P5B .