Kevin C Bacon (Baconsdozen).
Over thirty years worldwide mail order of BSW,BSF,BA and AF (SAE) spanners and sockets for older machinery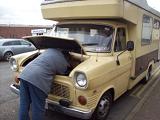 Tel (44) 01472353993 or Mobile 07974435627.
Links to other pages/sections on site.
Whitworth,BA sockets. | Whitworth,BA spanners. | AF (SAE) sockets. | AF (SAE) spanners. | General Tools. | Hub sockets etc.
Spanner types etc. | Tool size conversion tables. | Site Map. | Tool Blog. | Contact me
Whitworth (BSW),BSF and BA fixings were common up to the 1960s then gradually replaced by UNF/UNC fittings which use imperial sized A.F (SAE) tools. These have now in most applications been replaced by metric. Metric tools won't fit nuts and bolts on the majority of older English or imported cars,motorcycles,trucks or other machinery which use imperial based fittings. There are no set dates for the changes,a workshop manual,owners club or fellow enthusiasts may help if you are unsure of the tools you need. My (much copied) nut/bolt size imperial to metric conversion charts can explain the different imperial and metric standards ,what UNC,UNF,BSF,Whitworth and B.A mean,and how imperial spanner sizes compare with metric ones.




Why be fobbed off with metric tools or cheap imported stuff that 'nearly' fit. I sell genuine,correctly sized and engineered imperial tools.Some are even British made,all are in ranges to suit the professional engineer or DIY enthusiast who repairs,restores and services older machinery. For classic,veteran and vintage cars and motorcycles,plane,boat and train engines,farm implements and plant,stationary or steam engines etc I have imperial sized socket sets or individually in six and twelve sided,deep,standard and impact form, cranked ring,box,open ended and combination spanners in imperial sizes and send them worldwide. I stock tools nobody else does,including many so called obsolete sizes and specialised tools for hub nut,ball joint and crank pulley nuts sourced from quality makers in various countries,and I only sell tools I'm happy to use myself on my own vehicles.
Links below are personal pages,my cars,old projects and other car related stuff..
Rover P5b rolling restoration. | Running an old taxi cab. | Mk1 transit motorhome. | My home made motorhome
Range Rover. | Fixing stuck fastenings. | Freeing seized engines. | About us. | Links page.




Abbreviations and definitions used throughout this sites pages.
British Standard Whitworth (B.S.W.) .
Often simply referred to as
Whitworth or Whit,an early English thread standard,named after its inventor and found on many veteran and vintage machines. Threads are coarse,angle 55 degrees and the pitch is measured in threads per inch.The size marked on the spanner (half inch whitworth, nine sixteenths whitworth etc) refers to the diametre of the shank of the bolt it fits,not the head size and is always in fractions of an inch. For this reason a Whitworth spanner or socket is always larger than AF ones carrying the same size markings. All Whitworth tools will carry a marking,normally a fraction followed by "W", "WHIT" or Whitworth and sometimes "W/BSF" . Pretty much obsolete by the 60s but still found on some cars,motorcycles trucks,trains and machinery made after this. During the second world war the sizes of the heads of BSW and BSF bolts were reduced to save metal,all nuts and bolts were made one size smaller (ie) a 'new' 1/2 whit bolt had the same size head as the old 7/16.The war also emphasised the need for a universal standard in bolt sizes which eventually resulted in the introduction of the 'Unified' or SAE system which utilised AF (across flats) spanners and sockets.
Society of Automotive Engineers,or indeed Stamped Addressed Envelope.. Established at the start of the ninteen hundreds the society was formed to establish standards that could be adopted within the enginering and maufacturing industries. Some imperial AF spanners are marked 'SAE'.
British Standard Fine (B.S.F.).
Usually referred to as BSF,in effect,a fine version of whitworth. (More threads per inch) Size again refers to the threaded part of the bolt,not the head. BSF spanners are always marked one size larger than the same sized BSW spanner so for example a 1/4 inch BSW is the same size as a 5/16 inch BSF. Nuts and bolts in BSC (British cycle thread) are used on some very early machinery,mainly motorcycles and bicycles or autocycles etc. Whitworth and BSF spanners or sockets will fit these.
British Association (B.A.).
British Association,an early thread standard used on small nuts and bolts.These fixings are mainly found on electrical components or instruments etc.Still encountered on some relatively modern machinery and used in model engineering etc.Unusual in the the larger the number on a spanner or socket the smaller the tool. Sizes normally seen range from 0BA to 10BA although sizes from 11BA to 23BA are included in some text books and manuals.The even numbered BA sizes are used more frequently than odd with 2 BA probably the most common.
A.F.
For spanners and sockets A.F stands for Across Flats (not in this instance American Fine) and indicates the gap between an open ended spanners jaws and the distance across the nut or bolts parallel faces.Normally measured in fractions of an inch (7/16 or 1/2 etc) . If the measurement is an exact inch fraction they usually simply referred to as 'Imperial' or AF and normally used on UNC or UNF fixings . They are normally marked with the size in fractional inches (1/2 AF,1/4 AF etc) or sometimes with the decimal inch equivalent (50AF or 25AF etc). Some are found marked with a fraction and the letters SAE. Spanners and sockets measured and marked in whole millimetres are intended for metric threaded fixings and are really AF Metric (across flats mm) but are usually simply called metric.
UNC and UNF.
Unified Coarse or Unified Fine,the thread standard that superseded B.S.W and B.S.F etc. Fast becoming obsolete but commonly used on many vehicles late 50s to 80s or much later on some USA made machinery. Most UNC and UNF fittings are designed for the use of AF (Inch based) tools.
Box spanners.

In USA and some other countries the ring end of a combination or ring spanner is called a box.In UK and others a box spanner is a tubular spanner used to access deeply recessed nuts and bolts.The spanner is normally turned by a detachable tommy bar. Deep sockets will do the same job unless the nut is very deeply recessed and/or access around it is limited,box spanners may then be the only tool that will work as they are normally six sided and thin. The strength of box spanners is limited and they tend to spread if excessive force is used on them.

Sockets can be six point (shaped inside as a hexagon) sometimes called mono hex,most impact sockets are six point and coloured black.Rarely small ring spanners are made with hex ends mainly for brake bleed nipples etc. Flare nut wrenches for fuel or brake pipes are often six point with part cut away to allow them to slip over the pipe so that they then grip almost all round the fitting.
Twelve point sockets (bi hex).
Twelve point (or bi hex) sockets are a double hex configuration. Most ring spanners are of bi hex configuration, where access is limited bi hex tools need a smaller movement to turn a nut before they can be removed and refitted to enable the fitting to be turned again.
Flank drive,Hi Torq,wall drive etc are all different designs of sockets or wrenches claimed to drive without putting excess force on the very corners of hexagonal nuts and bolts.
Imperial.
Anything which uses inches or fractions of an inch as its measurement. Thus a 1/2 inch AF,or a 1/2 inch whitworth or BSF is an imperial sized spanner or socket,a 19mm is not. I regard Whitworth,BSF,BA and AF as Imperial tools. I don't sell the
types of sockets and spanners that are supposed to fit everything from mm to torx and Whitworth. I consider the correct tools for imperial sized fastenings is the imperial sized spanner (or socket) made specifically for it. There are few imperial tools that I can no longer source, if this happens and only where a metric tool is very close in size I can probably supply a suitable one as an equivalent. I have many,many more tools available than the selection that is shown on the web site.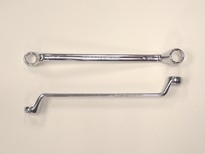 A spanner with its ends forming a circle

,the inside is normally formed with twelve sides (commonly called bi hex) in the same way as a conventional socket . They are normally made with one end being the next size up or down of the other (for example 1/2 x 9/16 inch AF),usually cranked as in the photo above they are also made in a shallow version or in rare cases flat.
A combination spanner is one with an open end and a ring end (normally of the same size)
Don't forget If you are not sure what tools you need for the restoration or repair of your veteran,vintage or classic car or motorcycle study the information above and looking at our imperial to metric etc spanner and socket

size conversion charts

.
Block spanners are called because they were used on difficult to acces fittings on an engine block,now they are normally called obstruction spanners and made in either curved or 'S' shapes. Some obstruction spanners are made with their ends at right angles to the shaft.Stubbies are normally short versions of conventional spanners and Crow Foot spanners are very short spanners made to be turned with a conventions socket extension bar. Some combination spanners are made with a rotating,ratchet ring end and some with a shaped open end that also allows a ratchet type action.Some tools are said to use one socket or spanner to fit various different sized imperial/metric fixings. I do not sell these.
Doppenset...Jeu de Douilles...Nusssatz...Set Bussole..Juego de Casquillos...schraubenschlueel...che a molette...llave...chiave.
I still prefer to do things in an old fashioned way and you can phone on mobile 07974435627 . I are not here 24/7,but if you e-mail I'll try and get back to you as soon as possible. There are some paypal buttons on the site mainly on stock items and they include post to UK, E.U and Rest of World (ROW) .The prices are in sterling (English pounds),there is no VAT (I'm not VAT registered) the price you see is the price you pay. Paypal will accept payments in your local currency but if in doubt mail . I accept cheques in pounds sterling or can send an invoice in pounds .More ordering details are here. I never store or pass on peoples details,this site does not use cookies .

.

Imperial Tools

Mobile 07974435627.

I'm based in England but I can (and do) ship tools for old machinery just about anywhere in the world.